Water Damage Restoration Victor Valley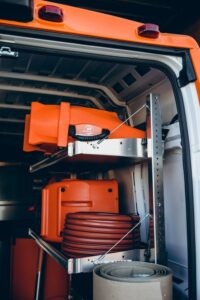 Victory Valley property owners know what a nightmare it is to experience a water damage emergency. When a property disaster strikes, you need a reliable partner in your back pocket to call for flood cleanup and mold removal. Fortunately for you, 911 Restoration is available for all of your commercial restoration needs in Victorville, Hesperia, and Apple Valley.
Our flood cleanup team provides full-service water damage restoration to commercial and residential properties in the Victorville area. We're here for you 24/7/365 with a promised arrival time of 45 minutes or less. Our IICRC certified staff goes above and beyond basic water removal to provide your property with the Fresh Start it deserves. We cover it all, from structural drying to mold remediation. You can even count on us to repair all damaged structures and surfaces.
No matter if you're experiencing a flooded basement or sewage backup, we take care of your needs. Our goal at 911 Restoration is to deliver peace of mind through top-quality service and transparent communication. We're licensed, insured, and bonded so you can feel confident you're working with the best in the industry. Our business is locally owned and operated, so you can be sure that we're personally invested in the communities we serve.
The road to recovery may seem unclear, but the water damage restoration experts at 911 Restoration are here to make the process easier. We offer a free visual inspection (for property owners only) to clarify what it will take to give your property a Fresh Start. From there, you sit down with an expert on staff for a free insurance consultation. We know dealing with insurance can be a headache on it's own, so we review your policy with you to ensure you understand which services your provider covers. We even help with the insurance paperwork!
A water damage incident can feel like the end of your property, but it's not. You don't have to find your way out alone. Call 911 Restoration of Victor Valley today.
24-Hour Emergency Flood Cleanup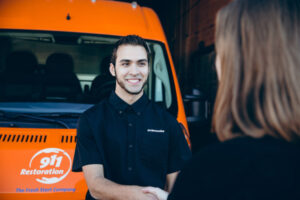 When you're dealing with a flooded basement, there's no time to waste. The longer moisture lingers on your property, the more you have to worry about incurring costly damage. In fact, according to the United States Environmental Protection Agency it only takes 24 to 48 hours for mold to grow on a damp surface.
That's exactly why we offer a guaranteed arrival time of 45 minutes or less. Our flood cleanup team is dedicated to working quickly to extract the water and save the structure of your home or business.
We offer a wide array of water damage restoration services, including:
Water removal
Boarding up
Roof repair
Storm repair
Sewage water removal
Leak detection and more
Our water damage restoration staff follows water removal with structural drying and dehumidifying with professional blowers to eliminate all moisture. This step is critical because stored moisture can cause serious damage to your property and your health in the long term. Drying your property prevents weakness, rotting, warping, and mold development.
Don't waste time working with a water removal company that doesn't treat your property as if it's their own. Whether you've been through sewage backup or a frozen pipe burst, call 911 Restoration of Victor Valley.
Your Full-Service Water Damage Restoration Crew in Victor Valley
Our goal as your flood cleanup and mold removal team isn't just to dry your home or business. We aim to leave you with a property that feels brand new and takes you back to the first day you moved in.
Once water removal and structural drying is complete, our crew inspects for damage. Even if you react quickly, your property can still experience some destruction after flooding. We don't consider our job done if your property is still in questionable condition. That's why we inspect for weakness, rotting, and stains.
If our water damage restoration technicians uncover any problems, they repair the issues themselves. We train our staff thoroughly and give them the professional tools and resources they need to ensure you truly experience a Fresh Start.
Before your property is restored, we conduct a mold inspection. Our mold removal experts exam every square inch of your property to check for signs of new growth. Since 911 Restoration is a certified mold remediation company, we can remove the fungus safely and completely.
You might think mold development isn't a big deal and can be taken care of with a home remedy, but that couldn't be further from the truth. Prompt mold remediation is essential to preventing long-term damage to your property and your health.
No matter what type of water damage emergency you're facing in Victorville, Hesperia, and Apple Valley, call 911 Restoration for a Fresh Start.