Water Damage in Victor Valley
Weather Alert: If you are experiencing weather-related damage from the storm, call us today for emergency assistance!
911 Restoration of Victor Valley
When your property is experiencing a water damage emergency, you don't have a second to spare. You need help from a water damage restoration team immediately.
At 911 Restoration of Victor Valley, we offer a Fresh Start with our comprehensive selection of property damage restoration services, including but not limited to:
Whether you're a Victor Valley homeowner or business owner, 911 Restoration of Victor Valley is your Fresh Start! We'll communicate with you throughout the entire process, help answer questions related to insurance, and restore your property to its pre-damaged condition. One of our IICRC-certified teams is dispatched within 45 minutes of your call! Contact us today, and one of our friendly representatives will assist you in finding the nearest Victor Valley location.
Water Damage Restoration
Turn to 911 Restoration for water damage restoration in Victorville 24/7/365. We even guarantee an arrival time of 45 minutes for less.
Whether you're experiencing a flooded basement or sewage backup, we can help. Our IICRC certified technicians do it all, including emergency roof repair, storm repair, boarding up, and leak detection. They pack out and store your belongings to prevent additional damage during the water removal process. Once they complete the water extraction, they bring in professional blowers to dry the area completely.
We hold our team accountable to go above and beyond flood cleanup to truly provide you with a Fresh Start. That's why our water damage restoration crew conducts structural testing and a mold inspection after they extract all the water from your property. If they find any damage or an infestation, we handle the repairs and mold removal themselves.
When you're experiencing a water damage emergency and need fast relief and expert service, call 911 Restoration of Victor Valley.
Mold Removal in Victorville
If your property has experienced any water damage, it's likely that you're at risk for mold growth. Mold destroys the structure of your home or business, and can release dangerous particles into the air you breathe. For the sake of your property and your health, don't wait to call a certified mold removal company until it's too late.
Our mold remediation team can completely remove this threat. Upon arrival, our mold removal crew performs a thorough mold inspection to uncover every trace of fungus. You can have peace of mind knowing that their removal tactics are safe and effective. They even prevent your property from experiencing future growth by dehumidifying the structure where mold grew.
Before they consider their jobs complete, they example your property for permanent staining or damage. They personally repair any problems they discover, leaving you with a home or business that looks as good as it did on the day you moved in!
Are you worried your property might be dealing with a mold infestation? Call 911 Restoration's experts for mold removal in Victorville, Hesperia, Apple Valley and all surrounding areas.
Client Testimonial
Sherry M.
"I would give them 6 stars if I could. I had to deal with a flood in my business, an absolute nightmare for every business owner. [911 Restoration] came right away, and they are so professional and efficient. Even after everything was done they followed up and made sure everything was back to normal. A+ customer service. Thank you!"
Sewage Backup and Cleanup
 Once your property experiences sewage backup, it can feel like your home or property will never feel clean or brand new again. We're here to tell you that's simply not true. Our sewage restoration team knows exactly what to do to give you a Fresh Start.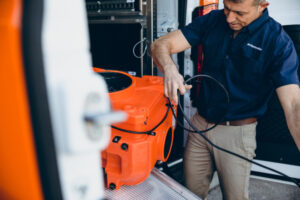 Our sewage cleanup crew arrives on the scene in 45 minutes or less no matter what time of day or night you need us. They work quickly to minimize water damage and limit the cost of sewage restoration. Because it only takes mold 24 hours to start growing after the initial water damage, our cleanup crew handles sewage extraction quickly. They even dry the area with professional blowers. After sewage removal, they sanitize your home or business to make sure your health isn't compromised by any invading bacteria or viruses.
If your floorboards experienced damage during your sewage backup disaster, our team can take care of it. In fact, we can handle any necessary repairs! Our technicians don't leave your property before performing a mold inspection.
We know how unsanitary and contaminated your property feels right now. It can feel devastating, but we guarantee to have it sparkling clean and fresh-smelling so that you can get back to your life. Call 911 Restoration of Victor Valley today.
Fire and Smoke Damage Restoration
 A property fire can really feel like the end of your business or home. When you need fire damage restoration services after going through this terrifying experience, you can count on us. We handle every step of the recovery process, starting with a fire damage assessment.
You might think the smell of smoke will linger on your property forever, but our fire cleanup technicians remove odors permanently. They use sodablasting to eliminate all traces of soot and ash. Their smoke removal efforts even include cleaning your dishes and furniture.
Firefighters do an amazing job of putting out the fire, but you can be left with a flood from the firehose. We can remove all water and handle mold remediation personally. Your Fresh Start isn't complete until your property has a full restoration. Whatever is broken, we can fix.
Don't let a property fire make you think your livelihood is gone. Our fire damage restoration crew can lead you to the Fresh Start you need. Call 911 Restoration of Victor Valley.
Disaster Restoration in Victorville
 If you've learned anything on our website, it should be that we're here for you when the unpredictable happens.
Our disaster restoration team is trained and prepared to confront any emergency. They handle fire cleanup, water damage restoration, sewage backup, and more. We make sure our workers are equipped with the best tools and resources to restore your property safely.
We know how much is at stake for you when your property experiences a disaster. You can have peace of mind knowing we do everything in our power to get you back on your feet and make your property feel brand new. Our experts serve you with compassion and make sure you know what's happening at every step of the recovery process.
No matter the disaster your property is facing, call 911 Restoration for a Fresh Start.
Commercial Restoration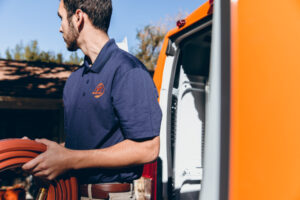 We're here to help you recover your property no matter what time of day or night. If you discover sewage backup in the middle of the night on a holiday, we're still going to show up for you. We're here for you 24/7/365, and we'll be there in 45 minutes or less.
Our commercial restoration staff is held to very high standards and is required to complete regular, rigorous training. They come prepared to handle any disaster and treat your property as if it were their own.
We'll get you back on your feet quickly and at a limited cost. Call 911 Restoration for the customer-focused service you deserve in Victorville, Hesperia, and Apple Valley.