Fire & Smoke Damage Restoration in Victor Valley
After experiencing a fire on your property, fire and smoke damage can make your home or business feel contaminated. You might even feel like your property is gone forever, but we're here to assure you a Fresh Start is within reach with 911 Restoration of Victor Valley.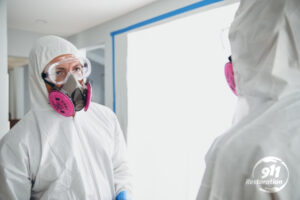 While we do provide water damage restoration and mold removal services, we're still here for you if you need puffback cleanup or fire damage restoration. Our fire cleanup team is ready and waiting 24/7/365 to get rid of the smoke and odor stopping your property from looking its best.
Our IICRC certified technicians service both commercial and residential properties and guarantee an arrival time of 45 minutes or less. We provide you with everything you need for a Fresh Start, including smoke removal, odor removal, structural repairs, and even water removal and a mold inspection for firehose flooding.
What makes us different from other fire damage restoration companies, is our compassion. Along the way, our staff offers honest answers, clear communication, and takes care of your emotional needs. We know that a property fire is your worst nightmare and you're unsure of what the next steps are. That's why we offer a free visual inspection (for property owners only) to keep you feeling informed and empowered.
Our inspection clarifies exactly what services you'll need to restore your property. From there, our free insurance consultation walks you through your policy, outlining exactly how much your provider will pay for fire restoration, and what you will be held responsible for.
We recognize that you need to know you're in good hands throughout the fire cleanup process. 911 Restoration of Victor Valley is licensed, insured, bonded, and backed by the education and resources of a nationwide company. We're even locally owned and operated.
Above all, we're your neighbor and we know how essential you are to our community, so we're always on your side. For top-quality fire restoration and smoke removal in Victorville, Hesperia, and Apple Valley, call 911 Restoration. Your Fresh Start is waiting.
Full-Service Fire Cleanup in Victor Valley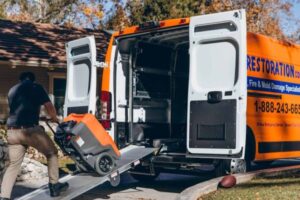 Fire and puffback cleanup go far beyond basic smoke removal. We know that you've invested everything you have into your property, so we honor that commitment by leaving you with a home or business that's as clean and fresh as the day you moved in.
911 Restoration provides full-service fire damage restoration so you'll never have to call another contractor. Our crew of fire and smoke cleanup experts does it all so you have one less thing to worry about.
After you call us for help, we arrive on the scene in 45 minutes or less. Our fire damage restoration crews first order of business is to pack out and store any unharmed items to prevent any further damage. From there, they begin the process of odor and smoke removal. This includes sodablasting surfaces, as well as cleaning furniture and dishes. Our fire restoration crew even examines your property for damages. They come equipped to repair anything, from your roof to your drywall.
In many property fires, water damage occurs. The fire department does the heroic job of putting out the fire, but they leave you with a flooded property. Fortunately, our smoke removal experts are also skilled in water damage restoration. They extract the water, professionally dry the area, and even perform a mold inspection. If an infestation is found, we take care of the removal personally because 911 Restoration also serves as a certified mold remediation company.
When it comes to bringing your property back to life after a fire, we're the partner you can trust. No matter how it looks today, your home or business is not lost forever. Call 911 Restoration of Victor Valley for expert fire damage restoration services.
A Fresh Start is Possible with Our Fire Damage Restoration Services
 Most property owners have two questions after their home or business experiences a fire:
Will my property recover, and how much is this going to cost?
While we can't estimate how much it will cost without seeing the damage, we can promise to perform a free visual inspection (for property owners only) and give you clear answers with no obligation.
Once the path to recovery is clear, a staff member sits down with you for a free insurance consultation. Taking into account the needs of your situation, they explain which fire cleanup services your provider will cover, and what expenses will fall to you.
We know how frustrating dealing with insurance can be, so we even help you with the paperwork!
Fire damage restoration can be a stressful time for any property owner. Don't make it any more complicated than it needs to be by working with the wrong property. When you need fire damage restoration and smoke removal Victorville, Hesperia, and Apple Valley, call 911 Restoration.