Mold Removal in Victor Valley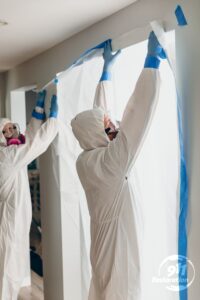 Are you worried there might be a mold infestation on your property? Well, you certainly wouldn't be the first Victorville property owner to experience mold growth and you won't be the last. The important thing to remember is you need to take quick action before the infestation does permanent damage to your property and your health. Fortunately, you have 911 Restoration in your corner to perform a mold inspection and handle remediation.
After experiencing a water damage emergency or sewage backup, your property is especially vulnerable to mold growth. In fact, within just 24 hours of water damage, mold can start to grow.  If it's left to thrive on it's own without prompt mold removal, the effects can be devastating. Mold can eat away at the materials of your home or business, and release dangerous particles into the air you breathe. If you want to protect yourself and everyone who visits your property, you need to see a professional mold inspection.
911 Restoration provides expert mold remediation in Victor Valley 24/7/365. Our IICRC certified staff has been trained to handle mold remediation safely and effectively. They even guarantee an arrival time of 45 minutes or less because they know how essential mold removal is. They're prepared to fully restore your property after performing a mold inspection, from repairing contaminated surfaces and drying structures to prevent recurring growth.
We are a locally owned and operated business who values you as a neighbor, as well as all of the businesses in our community. We value and prioritize your health and safety in all we do, and our mold removal technicians treat your property as if it were their own.
911 Restoration is licensed, insured, and bonded. We are backed by the respected name of a nationwide company and hold our technicians accountable to the highest standards of service. We are dedicated to keeping costs low while fulfilling your greatest expectations.
If your property needs a Fresh Start, call 911 Restoration for mold remediation in Victorville, Hesperia, and Apple Valley.
Mold Cleanup in Your Basement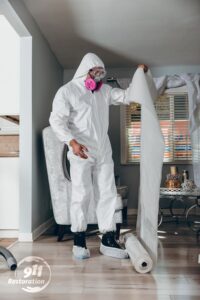 Basement mold is a common problem in Victorville. At one point or another, most properties have experienced water damage. If water damage restoration didn't include a mold inspection, the best thing you can do is get one now.
Dark, damp spaces like a basement are perfect breeding grounds for mold. Did you know that concrete absorbs and stores water? Over time, that moisture rises to the surface, creating a welcome space for mold spores.
Our mold removal specialists are trained in water damage restoration and know which materials are likely to store moisture. They know exactly how and where to search for mold.
When our mold cleanup crew is confident they've found every infestation, they bring in the highest quality of professional tools for mold decontamination. They draw on their extensive training to ensure safe and effective mold removal.
Once mold growth is gone, they bring in professional fans to dehumidify and dry your structure. Finally, they repair or replace any contaminated materials. By the time they leave your property, it will look and feel as good as the day you moved in.
Your property is your livelihood. Don't let mold take that away from you. Call 911 Restoration for a mold inspection in Victorville, Hesperia, and Apple Valley today.
Your Mold Remediation Team in Victor Valley
 A mold infestation may seem harmless, and you might think that you can take care of it yourself with a home remedy, but that couldn't be further from the truth.
The entire function of mold in nature is to break down organic material. When it grows on your property, mold devours wooden structures, wallpaper, and even glue! Second, most varieties of mold are either allergenic, pathogenic, or toxigenic. That means that the particles the fungus releases are incredibly harmful to your health.
Certified mold remediation specialists like ours conduct a thorough mold inspection to ensure no growth goes unaddressed. Our mold removal team is equipped to clean away mold without spreading spores and mycotoxins. If you were to scrub at a mold colony yourself, you would force the release of these particles directly into the air as you inhale.
Our mold cleanup crew takes additional measure to prevent a repeat infestation. Mold remediation may seem like an unnecessary expense, but the truth is the sooner you bring in a professional, the more money you save in the long run. Call 911 Restoration of Victor Valley for a Fresh Start today.